Enduro, Freeride & Flow
Adrenaline and action on two wheels
When it comes to the best freeride destinations, the Dolomites hold the number one spot. Get on the trail, up the mountain, out into the sunshine, and away! Even just the view of the imposing mountain peaks will make your heart beat faster as a feeling of freedom kicks in. The new, flowing trails on Dantercepies down to the Gardena Pass, the downhill trail on Ciampinoi, and the countless freeride trails in the different Dolomites valleys leave nothing to be desired. Our top tip is to book one of our all-inclusive packages, where every detail is covered. With carefully selected accommodation and local bike guides, we guarantee you a week packed with phenomenal mountain biking action.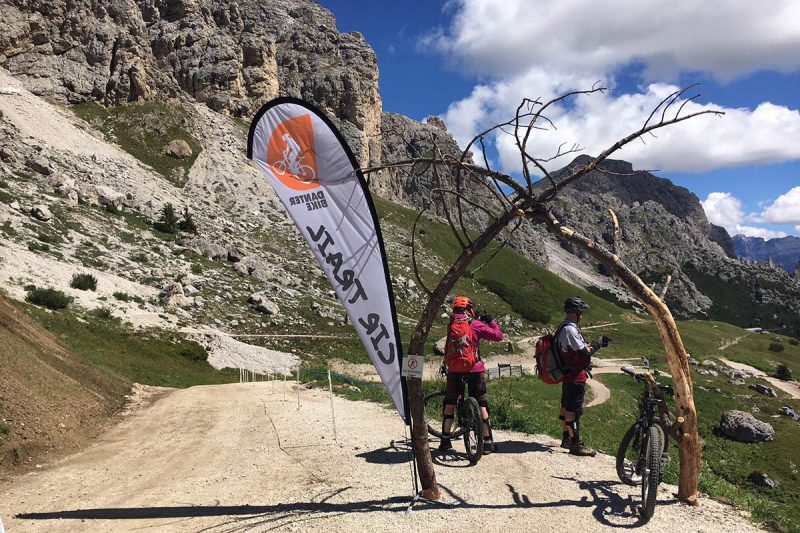 What is Flow?
Centrifugal force on two wheels
Flow stands for downhill fun. Accompanied by our South Tyrolean mountain bike guides, you will descend the newly opened flow trails. The tour starts on Dantercepies, where two new flow trails that pack a great punch were opened in summer 2017. After several breathtaking runs, the tour leads to the other side of the valley, where a variety of forest singletrack trails await on Ciampinoi. Sheer enjoyment!
---
What is Enduro?
A mountain bike version of the all-rounder
Enduro bikes can go anywhere: downhill they enable ultimate freeride fun, and uphill they are almost as fleet-footed as a mountain goat. The body position here is balanced, the wheels are light, and the frame weight is optimised. Dantercepies, Piz Sella, and Ciampinoi all have brand new flow trails reserved solely for enduro and downhill riders, suitable for beginners and experts alike.
---
What is Downhill?
Mountain descent at full speed
Downhillers don't want to climb mountains but go down them instead. As a result, the geometry and suspension travel of their bikes are specifically designed for descent, and as such are pure adrenaline machines. Bike parks with lifts and dedicated closed trails are their natural habitat. Downhill fans are guaranteed to get their money's worth with our new flow trails on Dantercepies, Piz Sella, and Ciampinoi.
New in Val Gardena
FLOW TRAILS: These ENDURO and DOWNHILL trails reserved exclusively for mountain bikers are located on Dantercepies, Piz Sella, and Ciampinoi. They are ideal for beginners and extreme adrenaline junkies alike.
The trails form an easy flow route intended not only to be a lot of fun for veteran riders, but also to give newcomers the opportunity to improve their skills. Flow trails are a new type of track that are either specifically created for mountain bikers or formed by modifying a suitable existing trail. Smooth and never particularly steep, the route winds its way through terrain between the summit station of the Dantercepies gondola, or rather the summit station of the Cir chairlift, all the way up to a height of 2,300 m and to the Gardena Pass at 2,120 m. The countless bends each have a perfect radius, meaning that they can be mastered without problems, even at high speeds. This is a trail for everyone, meeting the needs of novices just as much as those of seasoned mountain bikers, who will get a great adrenalin rush from the high speeds travelled.
On reaching the Gardena Pass, riders can either take the Cir chairlift back up for another round or continue their fun on the trail. Following route 654/653 (caution: hikers use this path as well), you reach Miramonti and then carry on to Plan de Gralba and Selva Gardena/Wolkenstein in Val Gardena, or you can follow the trail to Corvara and return to the Gardena Pass by hitching a ride on the Plans Frara gondola.
The Cir chairlift quickly transports riders and their bikes to the top and, together with the Dantercepies gondola, acts as a means of transport to the trail (see lift opening times).
… where guests are treated like royalty: